Return to news overview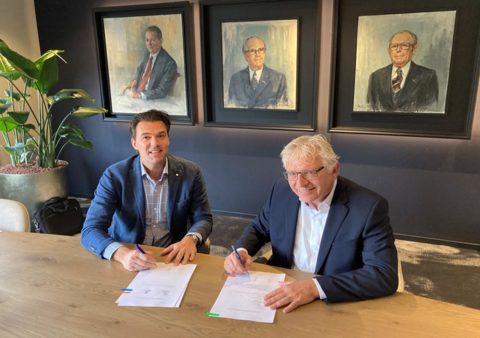 Signing agreement (from left to right) John Hagelaars, DGA Machinefabriek De Valk, and Jan Adams, CEO Anvil Industries.
Press release
Anvil Industries, a company of VADO Beheer, acquires Machinefabriek De Valk.
Eindhoven, November 8, 2022 – Anvil Industries, included in the portfolio of investment company VADO Beheer, has acquired Machinefabriek De Valk (Valkenswaard, the Netherlands). De Valk specialises in the flexible, quick production of mechanical components. For example, prototypes and rush orders (QRM). In addition, De Valk has developed into a specialist which can print and finish complex products in stainless steel, aluminium or titanium (additive manufacturing). With the acquisition of De Valk, Anvil Industries has added the specialty of 3D metal printing to its technological competencies. De Valk will continue to operate as an independent company under its current management.
Founded in 1948, Machinefabriek De Valk was widely known as "the first Valkenswaardse machinery factory". Now that the third generation is at the helm, De Valk has developed in recent decades from a regional family business to a specialist in high-quality mechanical machining with an international customer base. De Valk produces both total projects and components for the optical and semi-conductor industry. Additionally, De Valk realises advanced 3D printing projects with which parts can be produced with more complex shapes, extremely high accuracy and less wasted material than through conventional techniques. De Valk is one of the partners in the K3D-AddFab consortium, based at the Brainport Industries Campus (BIC) in Eindhoven, the Netherlands.
Within VADO, a group of high-quality high-tech companies bundle their competencies in the field of mechanical machining under the name Anvil Industries. With its activities, De Valk fits perfectly in this group and the companies can further strengthen each other operationally and commercially.
Jan Adams, CEO of Anvil Industries, is proud that De Valk is joining Anvil. "De Valk was developing 3D metal printing early on. That shows the innovative ability and entrepreneurship that fits Anvil and VADO quite well. The synergy benefits between De Valk and the companies in our Anvil Industries Group are numerous and allow us to further develop our role as a technology partner for our clients."
John Hagelaars, DGA of De Valk, sees the affiliation with VADO as an important next step for his company: "Thanks to VADO's scale and technology focus, we get solid support for healthy further innovation and growth. I am also happy for our people, because not only are we positioned to develop further as a company, but this step also offers further growth opportunities for our employees. There was a click from the very first moment. And as a family business with Brabant roots, we fit in perfectly with Anvil and VADO. "

About Machinefabriek De Valk
Machinefabriek de Valk, founded by Jan Hagelaars in 1948, specialises in manufacturing mechanical components in all common steels, non-ferrous metals and plastics, as well as complete manufacturing and assembly of modules and machinery. It also has a Cleanroom ISO class 7 facility and a grade 4 Cleaning Line for cleaning and ultra clean packaging of products.
Furthermore, Machinefabriek De Valk is a forerunner in the field of 3D printing (additive manufacturing) and a partner in the K3D-AddFab consortium, based at the Brainport Industries Campus in Eindhoven. Together the partners lease Metalfab, a 3D metal printer that provides series production of high-tech parts and components for aerospace.
More information: www.machinefabriekdevalk.nl