Back to Press releases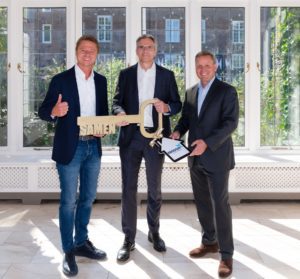 Cas de Haan (Caspar de Haan), Aart Fortanier (VADO) and Tom Heintjes (Rendon Onderhoudsgroep)

Press release
Caspar de Haan acquires Rendon Onderhoudsgroep
Eindhoven, 1 September 2022 – As of 1 September 2022, Rendon Onderhoudsgroep will become part of branch peer Caspar de Haan. In this way, both regionally strongly-rooted family businesses can respond even better to the complex and growing market demand of clients for further enhancing the sustainability and maintenance of their properties. By combining the various specialisms of both companies, a broader range of services can be offered to clients. The takeover is also a response to the growing need for well-trained professionals in an increasingly tight labour market.
Professionals central
Caspar de Haan and Rendon are family businesses that have been around for generations and know how to build a solid future. In the vision of both organisations, people are central. Cas de Haan, shareholder of Caspar de Haan: "our people come first, people are our success factor, they ensure that our customers receive the best possible services. That is why we attach great value to the continuous development of our employees. A reference is the Caspar de Haan Academy that we established in 2017 to give all employees the opportunity to continue to grow. This way, the professionals can broaden their knowledge in-house, keep their work challenging and remain employable in the long term".
"A philosophy that fits in seamlessly with Rendon's 'continuous learning' vision," says Rendon's Managing Director Tom Heintjes. "Because our professional staff will be making use of each other's expertise where necessary, both organisations can continue to grow, particularly in this challenging labour market".
Responding to the market of the future
Regionally, both companies complement each other very well. Caspar de Haan is mainly active in North Brabant and Limburg and Rendon in North Brabant and the Randstad. The cooperation increases the competences in the areas of innovation, automation, recruitment of top talent and risk management. Both organisations contribute their own specialisms and can offer clients a wider range of services.
National partner in making real estate more sustainable
In May this year, Caspar de Haan merged with De Variabele. This is another family business and also a specialist in the maintenance and renovation market. De Variabele is mainly active in the Middle and East of the Netherlands. Caspar de Haan and De Variabele continued to work under their own names in their own regions after the merger.
The merger of Caspar de Haan and De Variabele has created a leading player in the Dutch real estate maintenance market with more than 700 employees and a turnover of over € 150 million. The combination has the ambition to grow into a national player in making real estate more sustainable. With the arrival of Rendon, this geographical position is now further strengthened. By joining Caspar de Haan, Rendon leaves the VADO family after 26 years. VADO has thought carefully about the sale of Rendon. For the long-term value creation of Rendon, cooperation with Caspar de Haan and De Variabele is more obvious and creates opportunities for a healthy further development of Rendon.
In recent years, VADO has focused its investments more on companies in the Metals & Plastics and Machinery & Equipment Manufacturing industries. These companies fit better into its investment strategy as they have much in common and often reinforce each other.

About Caspar de Haan
Caspar de Haan, since 1749, is a maintenance and renovation company with 450 employees and offices in Eindhoven, Raamsdonksveer, Den Bosch, Venlo, Tilburg and Deurne. The company is specialised in the preservation, transformation and maintenance of existing buildings. Caspar de Haan mainly works for housing corporations and care institutions.
More information: www.caspardehaan.nl